By Cacinhair |
13
October 2020 |
0
Comments
Virgin Raw Hair Maintenance - How To Make Hair Extensions Last
You made the perfect choice in purchasing your virgin raw hair and it's set up; you leave your stylist atmosphere and looking fantastic... two days after your hair is not looking so sexy! Here are some important tips for your virgin raw hair maintenance to make your extensions survive:
It is not dyed, it may hold its pattern and choose colour easily with good operation (up to application time and temperatures ). It is best not to expect some weave extension to function as perfect as your hair that's ready to develop fresh strands and consume nourishment from the scalp. Weave extensions require a good deal of maintenance! More importantly, any harm to hair extensions is permanent; the only real result is tangling-matting-garbage so please protect your investment and read the hints below carefully.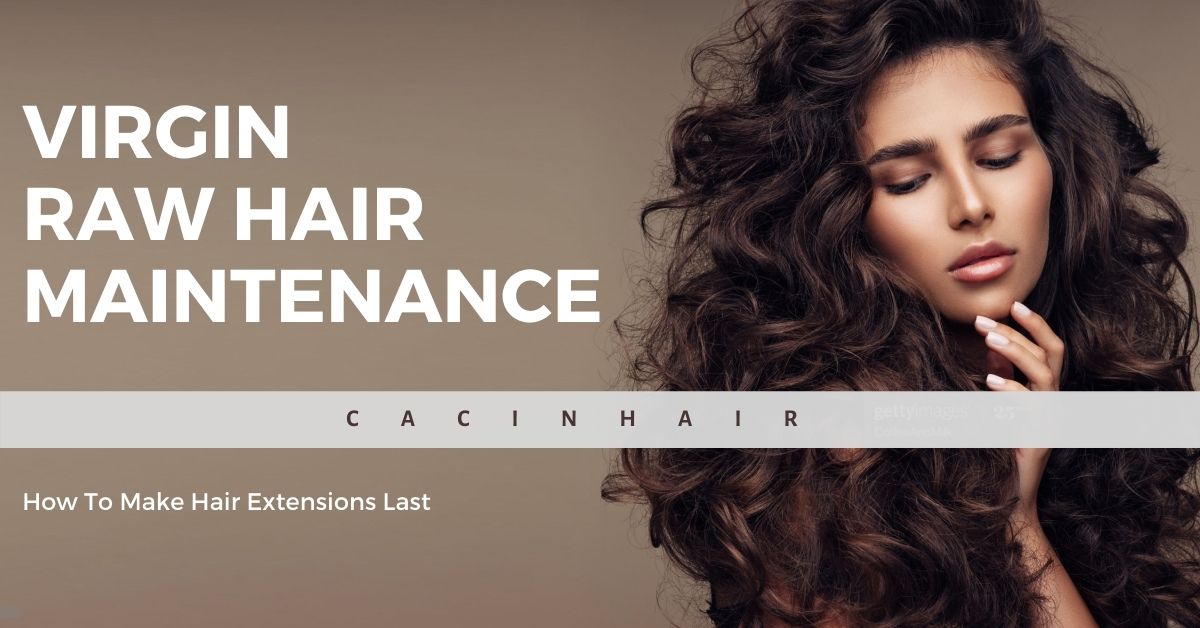 1. SHEDDING: You can find left over hairs on the weft which will fall down when washed the very first time or combed; it isn't actual shedding. The hair is sealed prior to shipment, but at times the sealer may not be effective and you're able to seal it again if you find it actually sheds. It needs to be performed before installation.
2. CO-WASH: You've got to co-wash (only use conditioner) it after getting it. Use a leave-in conditioner on the hair to help keep it moisturized. Co-washing will raise the moisture in the hair and keep it shiny and healthy. It re-defines the wave or curl pattern in addition to maintain that beautiful clean & healthier appearance. The very best thing about co-washing is it is fast and simple.
3. Always comb hair in the bottom up, little sections at a time. For your tight curly hair, detangle it wet using shampoo and conditioner, don't brush or comb it once it is dry it will lead to tangling and matting along with the hair will become really significant.
4. Wavy and curly hair could be straightened also restyled. Straight hair may also be curly, but do so at your own risk. Implementing continuous heat will damage the hair. Buy the hair pattern you desire, we do not advise changing in the initial layout often.
5. DAILY CARE: Keep your hair tidy. Make sure you moisturize and condition hair regularly. Please wash and condition it once or twice per week. Apply a mixture of water and leave in conditioner daily for curly and wavy hair. For straight hair use light moisture when required.
A crucial note: Curly hair always needs more care than straight hair. Please keep this in mind when selecting your hair.
We hope you are excited about your new virgin raw hair. Please follow these hair care maintenance pointers to help keep wellbeing of your hair extensions. With these ideas you'll be able to create your virgin raw hair from 6 months to 8 weeks depending upon your style. While complete sew-ins can last up to 4 months.
Cacin Hair is an China hair weave retailer and wholesaler that offers 100% flawless human hair at discount prices. To find out more about ways to look after your weave visit
cacinhair.com
Leave a Reply
Your email address will not be published.Required fields are marked. *