By Cacinhair |
10
August 2020 |
0
Comments
Raw Hair Prices - How To Ensure You Are Getting A Good Deal
Raw hair
have become a firm favourite as a convenient and fast way for girls around the world to modify their hairstyles and visual appeal. Loved by actors and used as a staple by hair stylists within the TV, movie and fashion industries extensions are now available on many high streets across online in addition to major cities. But with brand new lines and the widespread popularity appearing on the market it is sometimes hard to keep track of costs.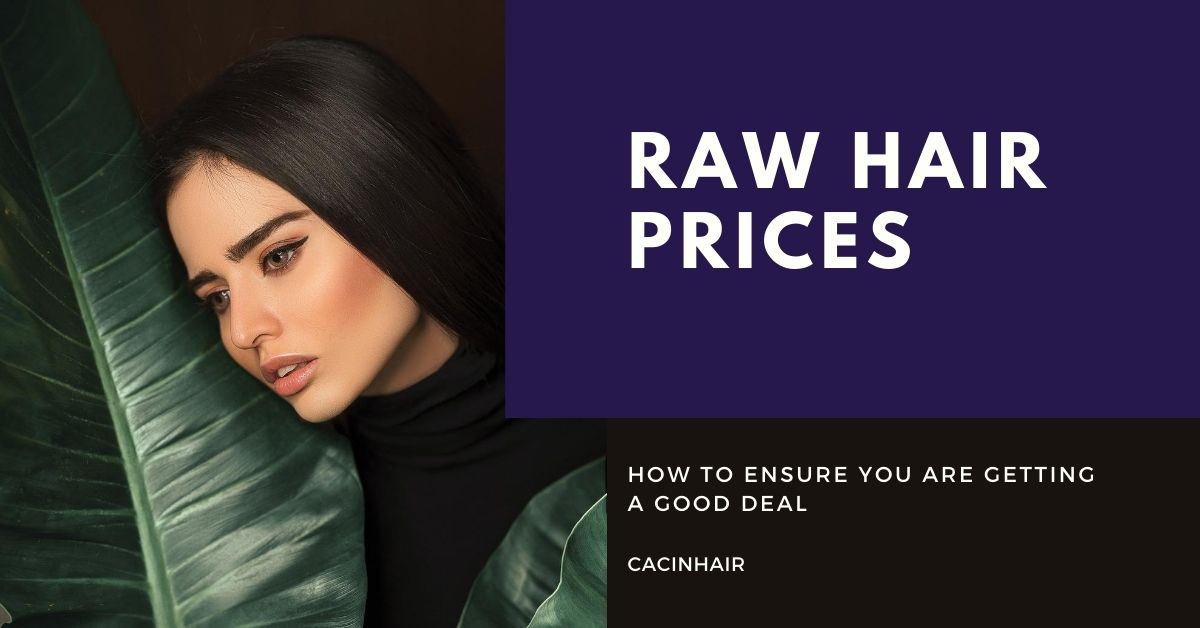 Due to the various qualities and also the fact that they can be found in various lengths and colours it is very hard when contemplating costs to know exactly what you are currently paying for and how to compare them. Below are a few strategies to remember when buying your weaves and extensions and contemplating lots of pricing rings either online and on the high-street.
1. Raw hair costs are determined by their quality. Firstly, hair extensions are either human hair, synthetic hair, or occasionally even a mix of both in some cases unscrupulous suppliers will even combine horse hair! Human hair is more costly then synthetic hair. This is due to the process of amassing the hair, treating it and colouring it. There are numerous brands which produce both natural 100% human Raw hairs and synthetic extensions so be cautious when making your choice.
All Remy hair is cuticle aligned hair, that is all currently running in the same direction. Since Remy hair is prone to tangle and matt that the end result is a better looking hair wefts. It does however, take and create Remy hair wefts, also raw hair wefts and it they cost more to create. Raw hair being hair that has not been tampered with chemically or mechanically, bleached, coloured or texturised at all.
2. Raw hair costs are dependent on the source. In the marketplace any natural product is affected by numerous issues including availability and lack. Human hair can be sourced from India (a huge producer), Asia (China and Malaysia), Brazil (very very rare) and Europe (Russia). Although the source of the hair may be some of those above the actual production of the hair wefts, tips or clip-ins may actually take place. For example a great deal of Indian hair is bought by Chinese companies to produce a variety of types of extensions.
3. Raw hair costs can also be determined by the supply chain. As in the case above where Indian hair is purchased by Chinese producers developed into wefts and then sold globally, if there is a very long distribution chain then the products will often be more costly as they cross various international boundaries thus incurring extra levies, all which will be passed onto the end-user.
4. Raw hair costs are depending on their length. It stands to reason that 30" of human hair isn't quite as easy to grow as 10". Raw hair costs are therefore also dependent on the length of your hair weft. As synthetic hair can be produced to the desired length based on fashion the gap in pricing inch for inch is proportionally less afterward for 100% human Raw hairs and it does not reflect the lack issues of certain varieties of human hair e.g. Russian or Brazilian.
5. Raw hair costs are determined by their durability and benefits. Another pricing consideration is set by the advantages and durability of the goods. As human hair will last more (up to 1 year) if treated and maintained well and is less prone to tangle and matt (if it is a Remy or Virgin raw grade ) this quality product will cost more on the beginning but will prove better value for money in the longer term.
6. Raw hair prices are decided by brand advertising budgets. Ultimately, Raw hair costs are dependent on the quantity of money spent on promoting and marketing a product. In most cases larger brands will want to recoup their spend and will spend more on advertising than businesses that are smaller. In this case the cost will be passed onto the end user.
To summarise when thinking about purchasing Raw hairs from several providers it's important to be clear on 1. Which type of quality hair you need; 2. If your choice is influenced by the availability or scarcity; 3. The distribution chain's length; 3. The length of your Raw hairs; 4. Whether you would like to buy from a bigger provider and bring more to its advertising budget (or keep more cash in your pocket); 5. How long you want your extensions to continue.
A last point to bear in mind when purchasing your Raw hair would be. As a beauty / style thing Raw hairs must come from providers who genuinely care about your own beauty ideals and requirements. Look for providers who are eager to spend some opportunity to answer your questions and respond to your needs.
For much more on Raw hairs prices and best practice on buying and maintaining Raw hairs see
Cacin hair fashion blog
.
Leave a Reply
Your email address will not be published.Required fields are marked. *