Specifications
Human Hair Type: Brazilian hair
Pattern: Body wave
Amount: 4 bundles, 3 bundles
Color: Natural color
Our Brazilian virgin hair is machine weft hair. The Brazilian weave hair is made by one donor raw hair, which is 100% virgin hair, natural color, no chemical process or acid bath. Our virgin hair bundles have full cuticles, and all cuticles aligned. It won't get tangled, and the more you wash it, the better it will be. The natural color comes in natural black, and natural brown. This Brazilian virgin hair can be dyed or bleached to any color, and it's still very healthy after dying. Aslo, you can restyle the hair many times. Please remember that wash and deep conditon virgin hair 2-3 times each week, then you will have a long lasting hair installation.
Details
Name: Brazilian virgin hair body wave 3&4 pcs, 100% raw virgin hair weave, free shipping
Hair Grade: Top grade
Hair Extension Type: Hair Weave
Human Hair Type: Brazilian Hair
Material: Raw virgin hair
Style: Body wave
Color: Natural color
Weft: Machine weft, double weft
Brand Name: Cacin, OEM/ODM are available.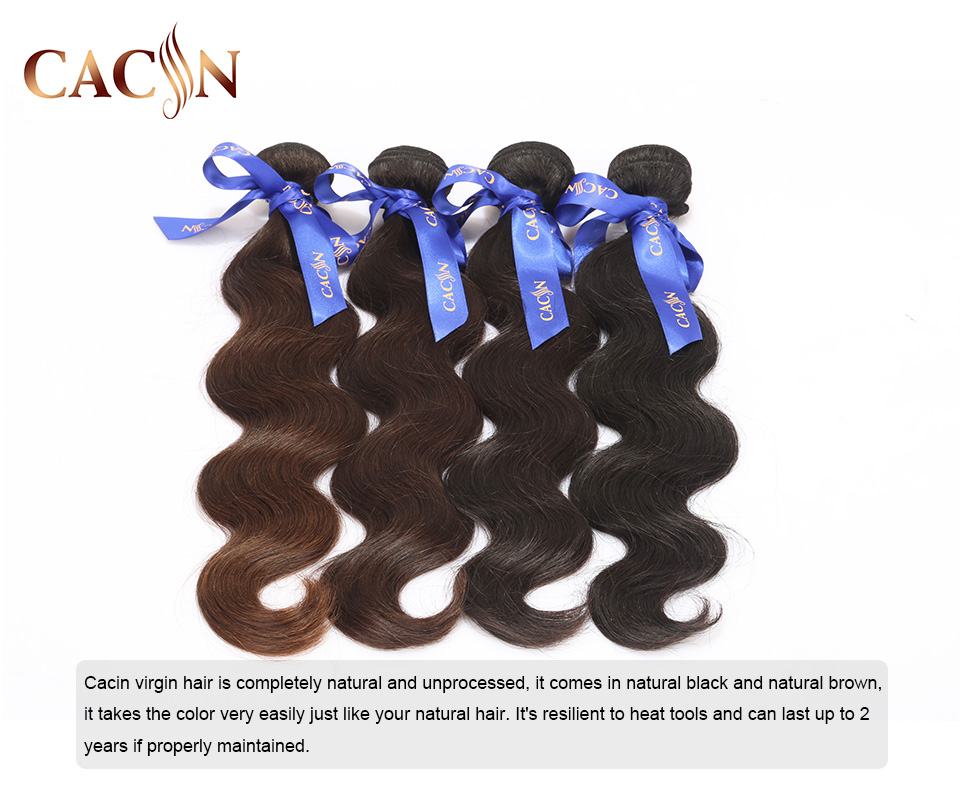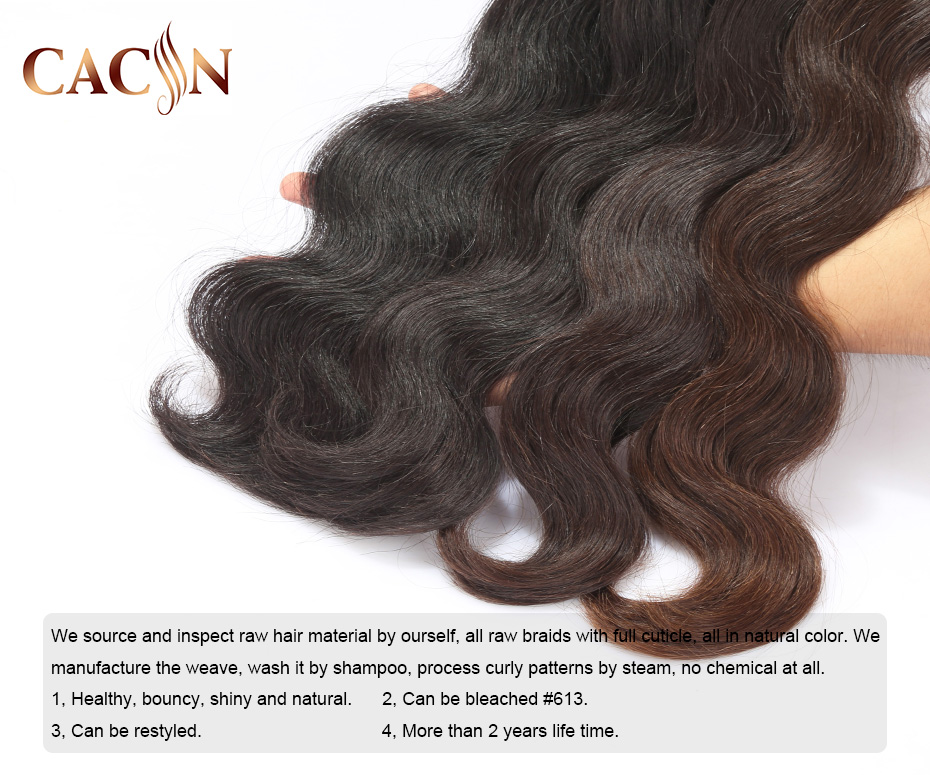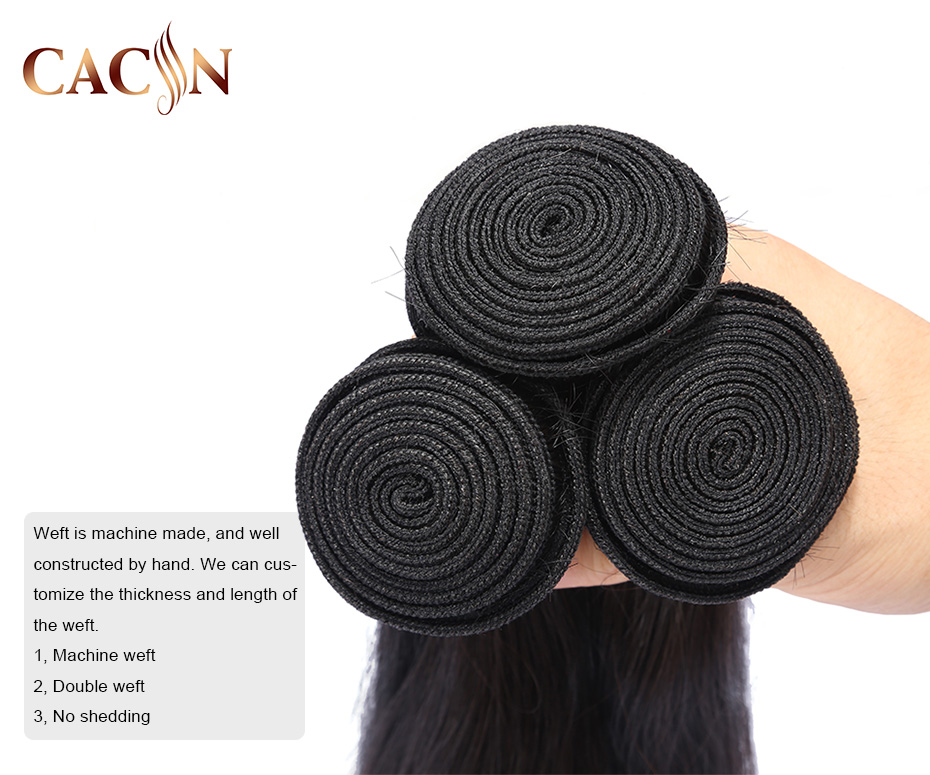 How long have your company been in hair business? Are you a manufacturer?
-Our family has been in virgin hair industry since 1982. Our factory was founded in 1996.

What are the stages of manufacturing the virgin hair extensions, how do you ensure the quality?
-We collect raw hair from young girls and women, separate the good and bad hair, remove gray hair, check and take off the lice and nits. Pick the best strands, and make the weft. Then wash the hair with shampoo and condition. Leave the hair air dry, measure the lengths and pack the hair. All stages are finished in our own factory, quality guaranteed, no chemical, no acid bath, no dyes, etc.

Do you offer dropshipping and add company logos or product tags?
-Yes, we offer dropshipping, and we can do customized packing for you.

Do you have a MOQ for wholesale?
-Hair in stock, one bundle is available. Special products, 30pcs each length.

What are your terms and conditions?
-3 months full refund for quality issues.

I paid the order yesterday, when will you send the hair?
-We will ship the hair within 24 hours after receiving your full payment.

How long take delivery?
- We ship the parcel by Fedex, UPS or DHL. Normally 2~3 days to North America. 3~4 days to UK and Europe. And 5~6 days to Africa and other countries.

What is your payment terms?
-We accept Western Union, Money gram, T/T, Paypal.

What do i have to pay for in terms of taxes, shipping. etc?
-We pay for the shipping, but we are not responsible for taxes and customs duties of your country. Normally we write less value on the shipping invoice to avoid taxes and customs duties.

Are the cuticles intact and aligned in the same direction?
-Yes, we supply 100% virgin hair, full cuticles and aligned in same direction.

How long does the hair last?
-Virgin hair last 2-5 years depending on how you maintain it.

What is the natural color of the hair? Can I bleach it?
-Our virgin hair comes in natural color, #1B, #2 and #4. It can be bleached #613.

Can they be straightened, curled?
-You can use hair straightener or hair curler to restyle the virgin human hair .
However, don't do it too frequently, because the heat make the hair easily get dry and damaged.

Can your hair withstand being dyed or bleached multiple times & still remain soft with body and not dry out or tangle?
-Yes, we supply raw virgin hair, it can be.

What process is used to achieve a curl pattern?
-Steam processed

How to maintain virgin hair extension?
1. Use good quality shampoo and conditioning products.
2. Use gel or hair spray to keep the curls in place.
3. Olive oil will be a good choice to keep the hair healthy.
4. Use styling products minimally to avoid build up.
5. For a "WET" look, we suggest a leave in conditioner & water.
7. Comb through (wide tooth comb) beginning at the ends and working your way up to your scalp.
8. Scrunch up hair gently to reform curls.
9. Let hair air-dry.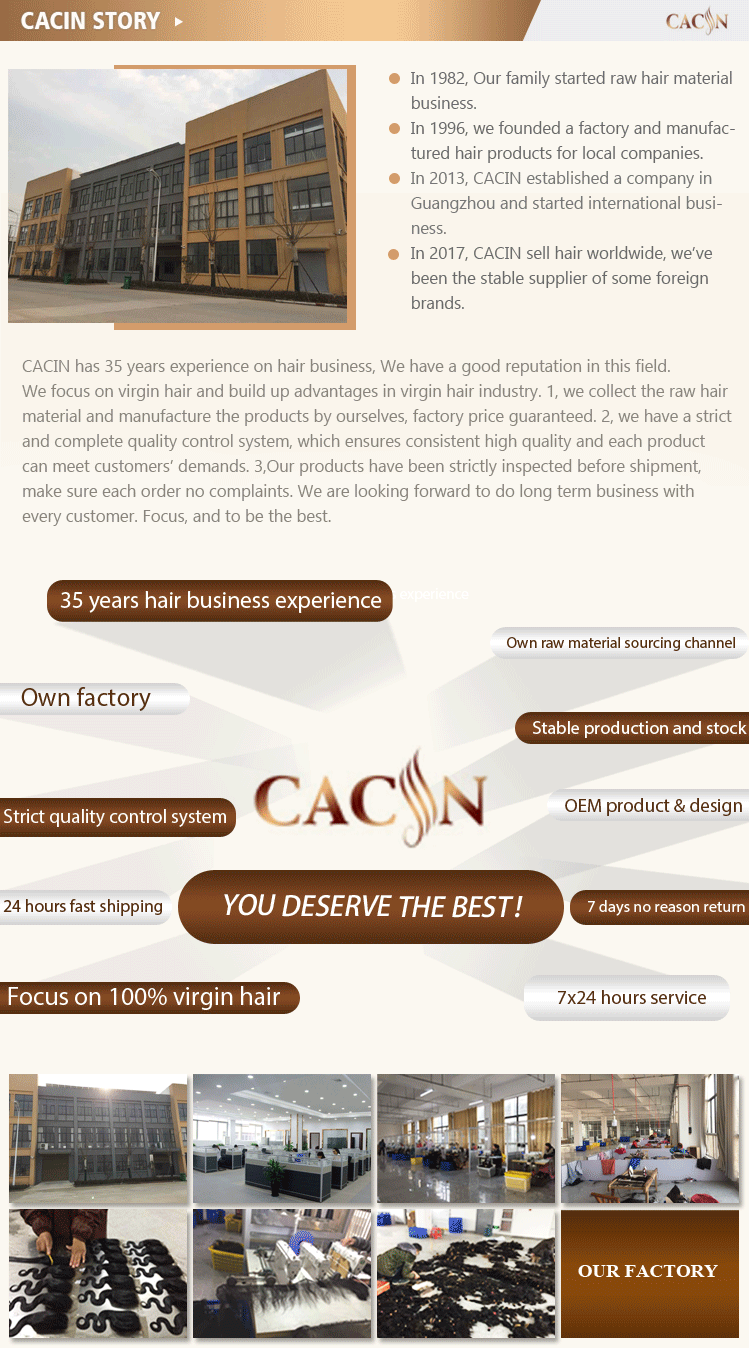 Virgin hair is completely natural and unprocessed, it has these features. 1, No chemical process, full cuticle intact. 2, Non-dyed hair, natural color, can be bleached #613. 3, Cuticles go in the same direction.
Our virgin hair comes in a combination of completely natural off-black and brown colors. There will be color variations between bundles, some lighter and some darker.
Also, our virgin hair is just washed by shampoo, so it can't be smooth soft as processed hair, sometimes it's a little rough and dry, but it's natural and healthy, you need to maintain it by shampooing and conditioning, it comes to life after treatment, and gets better over time.